Details:
Category:
News
| Hits: 493
Australians at the IMAC Worlds 2018

In early September 2018 two West Australians, Cliff Altus and Peter Bryner represented Australia at the 2018 IMAC World Championships. Cliff competed in the intermediate class, flying with a borrowed plane from a generous and friendly American Toby Silhavy. Yours truly worked as a judge.
This competition was held at the Academy of Model Aeronautics in Muncie, Indianapolis, which is about 40miles out of Indianapolis. This is a huge well kept site with a large Administration building, an impressive Model Museum and souvenir shop. Two trophies from Australia are housed there amongst so many planes and equipment. Just amazing to see the very early models, and the role these played in full sized aviation. Many a moment was taken recollecting engines, servos, air frames and transmitters from the 60's and 70's.
Competitors from overseas generally arrived in vans holding their crated aircraft. "Locals", from both North and South America arrived in with 4WDs with trailers or large mobile home combinations. Thomas David from England built an Extra 300 specifically for travel. The fuselage is able to be unbolted into two pieces. Transporting these models is a major challenge for competitors with some being shipped to the wrong location.
The welcome parade created atmosphere with prayers for safe flying and fair weather. For the week two out of the many available sites were used, with two flight-lines on each site used. 82 competitors from 19 countries competed in Sportsman to Unlimited Classes as well as Freestyle.
The weather was hot and humid during the first days of practise and the last two days of the four day event were rained out. 10 out of the 20 entered Freestyle competitors flew in the rain with their transmitters covered however they could.
Despite all the spectators being huddled under the tents, this was still an event not to be missed. Quite a range of music was used and well known pilots like Werner Kohlberger and Kal Riefsnyder wowed everyone. There was good quality freestyle shown by both young and older competitors. Unfortunately two were disqualified by flying across the deadline. Low cloud kept pilots from going too high – but the control shown in low and high alpha tricks had onlookers enthralled.
Cliff managed 16th out of a field of 18 intermediate pilots. The smile on Cliff's face throughout the event showed regardless of what was happening Cliff was still enjoying himself. As for me, meeting so many IMAC-mad people from all over the world was reward enough for going.
Judging started with a briefing where recent contentious matters were covered with guidance from the chief judge and IMAC(US) President, Mike Karnes.
Duties for the judges were split with enough time to get from one flying site to the other and spread around all clas
ses. There were 25 judges, three at each of the four flight lines at a time. Each class had about 20 competitors – so only one sequence was flown, the round taking 2-3hours.
Keeping one's eye on the unknown schedule, judging and listening to the caller was indeed exhausting – especially in the busy unlimited class with very close competition between the top half of the field. A beer (or 2) was welcome at the end of the day.
The USA won the country prize, Mexico second and France third.
Congratulations to all who participated and to the organising committee and helpers throughout the event. Would I go again? You betcha! Next time it will be held in Italy in 2022 – so start planning.
Sacha Cecconi with smoke mixing with driving rain.
A magic morning of practice - blue sky, light winds and eager pilots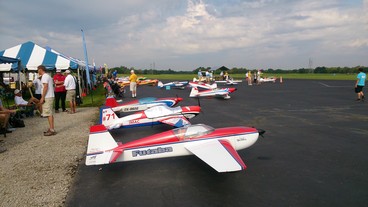 Advanced and Unlimited used the tarmac runway.
Great way of setting the flight order and tasks. This was just the Intermediate class.
Up close and personal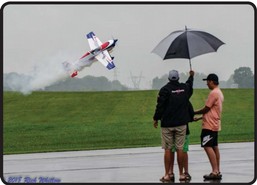 Rain did not dampen freestyle